by N. on Saturday, November 12, 2011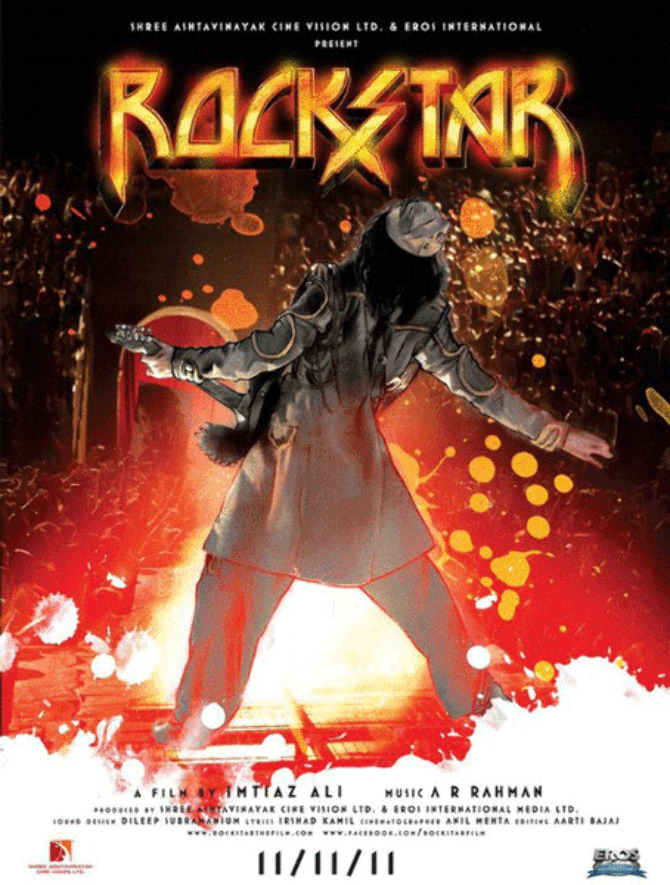 The awaited day. 11.11.11
For many reasons.
People getting married. Wishing Aishwarya Rai pushes the child out today.
And many more.
For me, it was about watching
Rockstar.
All through my exam hiatus I had been surviving only at the glistening thought of watching Rockstar when exams end.
And yes yesterday the day came.
After a century of meaningless shallow films this movie had my hopes touching sky high.
Courtesy it's trailers.
Courtesy the intense looks and magnificent acting of Ranbir Kapoor that the glimpses promised. And courtesy Imtiaz Ali.
Oh. Boy. It was the utter heart breaking moment when the expectations were Kungu Panda-ed and crushed to the ground brutally by the horrible reality.
3 words: The movie sucked.
Its a journey of a downtown naive boy in Hindu College of Delhi University, who wants to be another Jim Morrison, a journey from Jakhar to Jordan and sequential stops of love, heartbreak and self-realization. Music is Jordan's identity and the passion for it makes him rich and famous.

But, realization of reaching there incidentally makes it what the film is all about. His connection with the core and portrayal of it on screen by Ranbir is definitely a best .

"There used to be a jungle here, a very dense jungle. Then they built a city, now there are buildings and straight roads. When they built the city, a flock of birds flew away, they never came back. I'm looking for them. Have you seen them?"

The movie is basically about change. The change of priorities.

The first half of the movie is fun-filled and interesting. The shifting of scenes from the present to past are too many and they usually leave you confused.

Life in a Delhi college and the beauty of Kashmir has been nicely captured on screen. Many scenes can be related to specially the secret execursions with Heer played by Nargis Fakhri (she is very beautiful, and lets just keep it at that.)

The second half gets very monotonous and the narration becomes a little weak. The interesting scenes are fast forwarded and the slow and could-be-avoided scenes have been dedicated full length songs. The 'Realism' part is a huge drawback and like every typical Bollywood flick their is out-of-India shooting as well. Prague that is. Sequences are hard to believe and one is left to opine that it is not an Imtiaz Ali film or he was drugged the entire time making it.

The background music by AR Rahman is good(sometimes). The music and songs are capable of drifting you to another world. But the large no. of songs could have been avoided. There is a moment in the movie where you say to yourself if there is another song I ll stab someone. Or myself.

The movie is good in parts. Editing could have been a million times better..
The main problem with Rockstar is the leading lady Nargis, even animated cartoon characters emote better than her. I wish the actress was someone other than Nargis. She looks hot and beautiful at the same time but only if she keeps shut. But when the mouth is open one of the things is surely going to irritate the shit out of you. Either her dialogue delivery or her smile.


On the whole, Rockstar could have been better. A lot. They had a nice plot to play with. But they screwed up. In my opinion. 2 stars for Rockstar. [Just for Ranbir]


Producer: Shree Ashtavinayak & Eros International Media Ltd

Writer/Director: Imtiaz Ali

Lyricist: Irshad Kamil

Music: AR Rehman

Cast: Ranbir Kapoor, Nargis Fakhri, Shammi Kapoor, Aditi Rao, Kumud Mishra, Piyush Mishra, Shernaz Patel



---
---
---